2017 is right around the corner, which means it's time to get ready to party. If you will be hosting a New Year's Eve event this year, you want it to be a smash hit, not a budget bust.
These money-saving hacks will allow you to throw the party of the year on a small budget, avoiding the high cost of going out and making sure you and your guests ring in the new year on a happy note.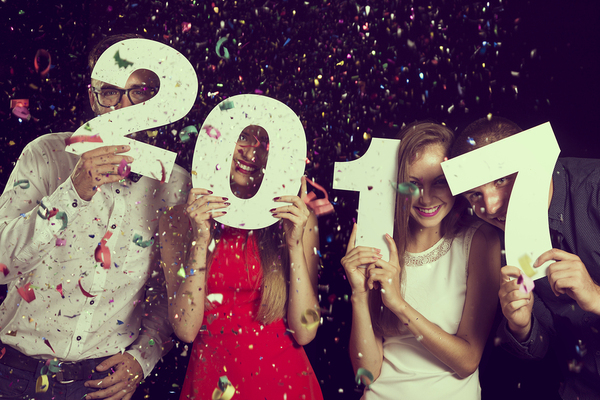 Go With Electronic Invites
You'll want to let your guests know about the event, but that doesn't mean you have to do it through an expensive paper invitation or a confusing group text. Check out Evite and similar sites that will allow you to send all of the event info via email, but in a classier design.
Have Your Guests Pitch In
You'll do most of the heavy lifting when it comes to decorating, organizing, and stocking the party, but there is no reason you can't turn your party into a potluck-style dinner if you plan on serving food. Come up with an entrée or two — you can even shop by what is on sale in the grocery store after Christmas — and then ask guests to bring side dishes and dessert. Everyone takes on a little bit of the burden making it more fun — and cheaper — for you.
The same goes when it comes to drinks. You'll likely be on the hook for making sure there is enough champagne for a midnight toast, but you can also ask guests to bring their favorite beverage to share instead of asking them to bring food.
Choose The Music
No, you can't just leave the TV on all night — a New Year's party needs some music to get the atmosphere celebratory. If you don't have the right music library, check out Pandora for free streaming stations, or Spotify, which allows you to make playlists and tailor your music more specifically.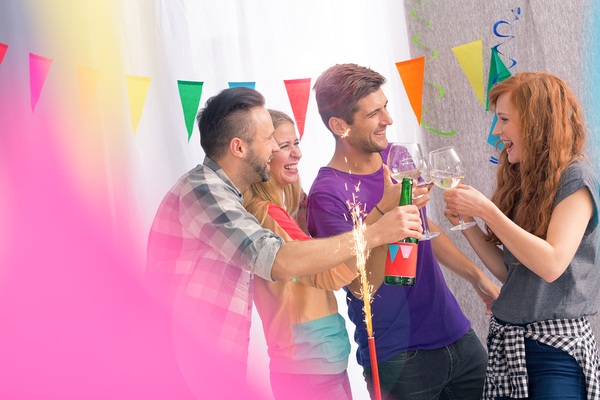 Do-It-Yourself: Decorations
You can make any space exciting with a little bit of crafting. Have your Christmas lights up already? Leave them, as they'll be a good source of mood lighting. Aside from that, you can use leftover wrapping paper cut out into shapes as wall decorations, and you can hang strips of ribbon from the ceiling.
If you want to give your guests some confetti for the stroke of midnight, cut up wrapping paper into even smaller shapes, and see if you can add a little sparkle by finding a coupon or sale for glitter from a craft store.
Stir Up The Fun
Your last responsibility as host is to make sure that everyone is having fun at your party. In the social media era, everyone loves sharing photos of themselves having fun, so make a homemade photo booth. Grab any silly props you may have around the house and get creative; a top hat and a broom are enough for plenty of silly photos. Choose an area of your house or outside, if the weather allows, that has a nice backdrop — this can be as simple as using your decorations to spruce up one of your walls.
If you are looking for a good deal on everything from favors to decorations and beyond, sign up for savings and deals from the brands you love.